Review Anti aging Serum
Avon™ Anew Ultimate Dual Elixir Review Anti Aging Serum
Most of you do not know me, but when it comes to anti-aging and taking care of your skin, I'm all about keeping your skin in "tip top shape" no matter which age. One of my favorites "go to" skin care
brand is Avon Anew.
I have been using the Anew Ultimate Skincare Regimen for over 10 years and is a believer and user of the products. Therefore, when the Ultimate Supreme Dual Elixir was introduced, of course I had to try it.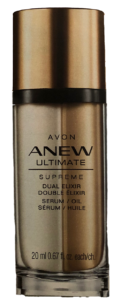 First, I had to determine would it fit in my current beauty regimen and routine. This product replaced my Multi-Performance Night Cream. At the writing of this review, I have used the serum for approximately 2 weeks as a part of both my AM and PM skincare routines. I have noticed that my skin feels smoother and look more radiance.
What is the Dual Elixir? An anti-aging serum blend of a serum and oil formulated to improve the advanced signs of aging such as a lack of skin radiance and deep wrinkles. The serum is infused with a rare ingredient called Black Pearl Extract which is known to enhance the skin's ability to retain moisture.
To round out this elixir is a blend of two oils, Camellia and Argan. The Camellia Oil is rich in essential fatty acids and helps improve the texture and firmness of the skin. The Argan Oil along with Vitamin E helps the skin become more radiant.
The bottle including lid is approximately 5" tall and will easily fit most hands. If you have a problem removing lids from bottles or jars, no worries here. The lid fits securely, yet it can be removed with little effort by gently pulling upper and/or turning then lifting.
What I like about the product
It can be integrated into my current skincare regimen
Absorbs quickly and does not leave skin feeling oily
Makes my skin look smooth
Competitive price
Dispensing and mixing are easy
The ingredients and directions are written in English and Spanish
This anti aging serum is suitable for all skin types
My Concerns
One of the concerns I had before using the elixir was whether it would cause my skin to feel oily. Though my skin has a sheen it is not oily. The Tissue Test was used to check for oiliness, the tissue did not stick to my forehead nor my cheeks. I felt a little stickiness where it was applied around the sides of my nose. To combat the stickiness in this area, I will experiment with using less or not apply any at all.
Another concern I had is really with the packaging and not the product itself. How to determine when to purchase another bottle, since the channels to be opaque. How long will .67 fl. oz last? I cannot determine when the serum is getting low except when it is pumped and not much product is released. Sometimes, this is my only way to determine a product is low because the container is opaque.
However,  a  simple technique I use to help determine how long a product lasts is to write the date I started using it on the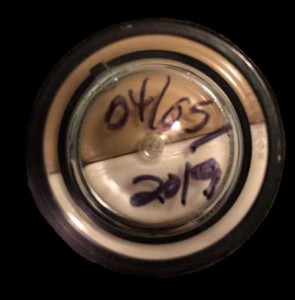 bottom of the container with a permanent marker. Once the dispenser starts releasing less, that lets me know that I've used most of the product.
For example, if I started using a product January 4, 2020 and noticed it was releasing less April 10, I can now estimate that the product will need to be replenished approximately every 3 months.
Another rule of thumb I used is my experience with similar products. It has been my experience that the Anew products that I've previously purchased usually needs replenished every 3-4 months.
This of course depends on many factors such as the weight, amount used and how often it is applied. There is a Sunburn alert on the bottle and the outer packaging because the product contains an Alpha Hydroxy Acid (AHA).
AHA may increase the skin's sensitivity to the sun which could possibly lead to sunburn. However, a suggested solution follows the alert: Wearing a sunscreen and limiting your sun exposure while using the product and for a week afterward may reduce the risk of sunburn.  (For your convenience, the Anew HydraFusion Broad Spectrum Sunscreen Lotion SPF 50 is available for purchase). The sunscreen is a component of my daily skincare regimen too.
How to Use
-Apply twice daily, AM and PM.
-Cleanse face and neck with cleanser.
-Dispense Dual Elixir into palm of hand (1 or 2 pumps should be ample).
-Blend well.
-Then gently massage over cleansed face and neck.
* It is formulated to work best when used with the Anew Ultimate Supreme Advanced Performance Crème at night.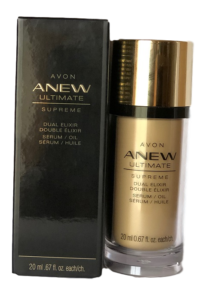 The Anew Ultimate Supreme Dual Elixir is a unique anti aging serum that is considered to more powerful than just a serum alone. In a consumer -perception study 89% of the participants showed an improvement in skin texture, radiance, wrinkles, firmness and moisture in a week.
Since I like the results I get from the Anew products, I would recommend, Anew Ultimate Supreme Dual Elixir to any person who is concerned with the advanced signs of aging, both male and female.